RELEASE WEEK EVENT~UNTIL THE END By Abbi Glines
We would love for you to join us in a release week event for UNTIL THE END by New York Times, USA Today, and Wall Street Journal bestselling author Abbi Glines from October 28-November 4, 2014!
Title: Until The End (Sea Breeze #9)
Author: Abbi Glines
Publisher: Simon Pulse (October 28, 2014)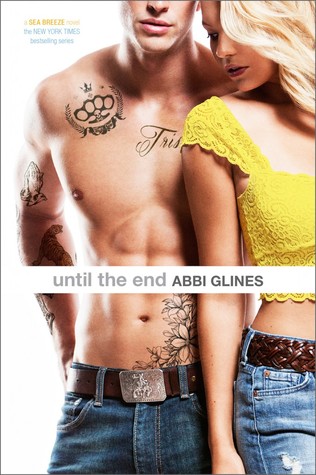 The backstory that fans have been clamoring for—how Rock and Trisha fell in love—is the final installment in the Sea Breeze series from New York Times bestselling author Abbi Glines. And don't miss the sizzling Epilogue, where Abbi wraps up all the Sea Breeze couples' stories!
Trisha Corbin always knew how to hide a bruise. With her momma's boyfriends unable to keep their hands off of her, she had no choice. And as long as it meant the guys wouldn't go near her little brother, Krit, it was worth it. But her days of dreaming that Prince Charming would ever come rescue her are far, far in the past.
Rock Taylor always had a plan. Through football, he would rise above the life he was born into. A full ride to play for a major college team was within his reach—assuming he didn't let anything get in his way. But scoring a date with the hottest girl in Sea Breeze was proving harder than expected. Trisha Corbin was every man's walking fantasy, and she wouldn't even glance his way.
When Rock finally does get Trisha in his truck, it isn't for a date. It's because he picks her up on the side of the road, beaten and bruised and walking to the local hospital. Before Rock knows it, football is no longer his life. Trisha Corbin is. And he'll do anything to save her. And keep her.
In addition to Rock and Trisha's love story, this special novel contains the wrap-up stories of all your favorite Sea Breeze couples: Sadie and Jax, Marcus and Low, Cage and Eva, Preston and Amanda, Jess and Jason, Krit and Blythe, and Dewayne and Sienna.
Goodreads
Amazon: http://tinyurl.com/ozo9663
iTunes: http://tinyurl.com/kz5qzhz
Kobo: http://tinyurl.com/l7kosnv
BN: http://tinyurl.com/nmgprfq
Excerpt 2-Trisha, The Past
Krit walked back into the room a few minutes later with a pillow, his comforter, and blanket. "He said he didn't need anything. He was just going to sleep on his beach towel but I ignored him. He's getting changed in the bathroom."
He was trying to make it easy on Rock so he would stay. But Rock couldn't stay. He was a kid too, with a football career in his future. He didn't have time to save us. "He can't stay forever, you know. He has a life and a future. We will be okay when he walks away. We have each other," I reminded him.
Krit didn't respond. He kept making Rock a bed on the floor beside my bed.
"You know that, right?" I asked again needing Krit to acknowledge that this wasn't something he should get used to.
When Krit dropped his pillow on the makeshift bed he turned his gaze to me. "No, Trisha I don't know that. I think… I think you may be more important to him than football." Then he walked out over and pressed a kiss to my forehead. "You're special. The kind of girl a guy does crazy shit for."
I started to say something but Krit left my room before I could think of what to say.
Moments later Rock walked back in wearing a pair of what looked like board shorts and a Sea Breeze Football tee shirt. His gaze landed on the spot Krit had made for him on the floor and a small grin tugged on his lips. Then he turned his attention to me. "I think he likes me," he quipped.
I didn't smile. Not because my lip was hurt but because Rock didn't understand the truth to his comment. I had to protect Krit. Letting him trust in Rock was a bad idea.
"He thinks you're going to save us. I don't need you to encourage that in him. He's been let down too many times. I won't let you do that to him too."
Rock stared at me a moment then he walked over to the side of the bed. His finger traced the side of my head gently. "You're worried about me letting him down. What about you?"
What about me? I was sure it would break my heart when Rock walked away from this. But I was tough. I could deal with it. My brother had emotional issues that I didn't have. He lost it and went crazy when things were too much for him.
"I know you'll leave. I don't have any grand illusions. In real life there are no heroes."
Rock didn't reply for a moment. He continued to trace the side of my head and rub his thumb and forefinger over my ear in a caress that felt soothing. "One day, Trisha Corbin, you will call me your hero. And that day will be the most important moment in my life."